Six Gold Targets Outlined - Drilling Underway Fahiakoba Concession, Ghana
September 17, 2012
THIS NEWS RELEASE IS NOT FOR DISTRIBUTION IN THE UNITED STATES OR TO U.S. NEWS AGENCIES

Vancouver, British Columbia — September 17, 2012 — Asante Gold Corporation (TSX.V:ASE/ FRANKFURT:1A9) (the "Company") has received final assays from a 1,200 hole soil auger program on the Fahiakoba concession in Ghana, West Africa.

Drilling has now commenced, targeting six anomalous gold trends in the north eastern part of the concession. The targets have strike lengths from 200 metres to 600 metres and are co-incident with structural "breaks" that have been interpreted from airborne and ground geophysical surveys. Gold mineralization in Ghana is often related to the intersection of regional NE trending geology with EW and NS deep seated structural trends.

Auger holes were drilled to depths of ~7 metres to test for blind gold mineralization in weathered bedrock (saprolite) below widespread alluvial cover. Anomalous gold values range from 25 to 650 ppb, with background levels of 10 ppb Au or less (please refer to a plan map of the anomalous gold trends at: https://drive.google.com/file/d/1gh1wCV53EYFtHhGofYZFGM7p9IEs_Icv/view?usp=sharing ).

On behalf of the Board,
"Douglas R. MacQuarrie"
President & CEO

About Asante Gold Corporation

Asante Gold Corporation (TSX.V:ASE/FRANKFURT:1A9) is a Vancouver-based gold exploration company, exploring the Fahiakoba Concession located in the centre of Ghana's Golden Triangle between Perseus Mining's 280,000 oz Au per year Edikan mine, and AngloGold Ashanti's 350,000 oz Au per year Obuasi mine.

For further information please contact:
Douglas MacQuarrie, President, tel: +1 604-558-1134; E-mail: douglas@asantegold.com
Jag Sandhu, Director, Corporate Development, tel: +1 604-306-1950
Doreen Kent, Shareholder Communications, tel: +1 604-948-9450; E-mail: d.kent@eastlink.ca
Kirsti Mattson, Media Relations, tel: +1 778-434-2241; E-mail: kirsti.mattson@gmail.com
Europe: Florian Riedl-Riedenstein, Director, tel: +43 2774 28814; E-mail: frram@aon.at

This news release contains forward-looking statements which involve known and unknown risks, delays and uncertainties not under the Company's control which may cause actual results, performance or achievements of the Company to be materially different from the results, performance or expectations implied by these forward-looking statements. We Seek Safe Harbour.

Neither the TSX Venture Exchange nor its Regulation Services Provider (as that term is defined in the policies of the TSX Venture Exchange) accepts responsibility for the adequacy or accuracy of this release.


Figure 1 Location Map - Phase 2 Drilling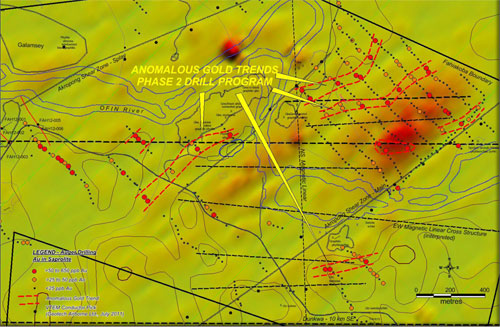 Figure 2 Anomalous Gold Trends on Airborne Magnetic Map